I didn't plan on beginning a blogging project at all. Not even this small one.
I was trying to get my students back on board with the wonderful project connecting deaf teens that Arlene Blum began. We began the school year with no online connection and had used up some pretty good ice-breakers last year. I  needed some way to kindle the students' interest in the project's blog "Global Friends." By the way, it's been expanded to include hearing teens who would like to correspond with our students, so if you know anyone, send them our way!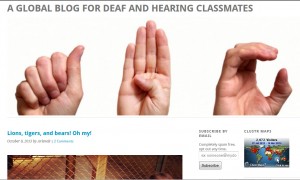 A student told me she was dreaming of visiting London. I remembered Tripline (that nifty and  simple tool that creates maps with a moving line to show a journey) and that was that. My students have currently begun, alone or in pairs, to write a few lines about their dream trips and add a Tripline map. We have quite a few online already, and a few more are in the making.
So, all is good, right?
Well, I AM an English teacher. I do know the students are learning from this experience, I'm just not sure how much English they are actually learning.
It's wonderful that they Google names of places in the country they want to visit, so that their maps will show movement. My students are so ignorant about the world. As we all know, general  knowledge DOES play an important part in reading comprehension.  I see this in class every day.
But they conduct their searches in Hebrew.
They have fun, particularly when they work on their trip in pairs. I BELIEVE in the importance of fun in the classroom.
But these Deaf / Hard of hearing students converse in Hebrew or Israeli Sign Language.
When they work on their sentences they use online translators quite a bit. That, actually, is less of a problem than I feared, as many of these kids type in sentences in poor Hebrew. Guess what? The resulting sentences are in poor English. So I am able to point out issues in their writing  (such as lack of prepositions, incorrect word order, etc) before they post. They want their posts to look right. However, they are so focused on getting their finished product to look presentable, they don't seem to be taking my comments in.
Apropos comments, that's another thing I see the students are learning. Many of them (not all!!!) don't have a clue as what to do with a comment on their post. Wait, need I mention they read the comment by pasting it into the translator? Anyway, we are having really interesting discussions on how you should relate to the person's comment in your reply and show appreciation for the comment. Important, huh?
Of course, the biggest panic is what happens after all the students have displayed their dream trips. Where do we go from there?!
A HUGE THANKS TO ARLENE AND TO ALL MY FRIENDS WHO WROTE COMMENTS!