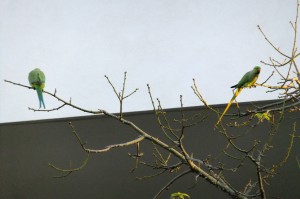 Sometimes the smells in this book are absolutely overpowering.
I don't recall ever saying that about a book. The writing here is so beautiful, the descriptions so vivid that I was utterly drawn in. And with everything so realistic the smells are too. Or mostly the stink.
And a lot stinks. Rotting garlic is just the beginning. Frankly, everything about being a poor garlic farmer in rural China stinks, physically and metaphorically. There's a lot of misery in this book. I couldn't leave it but some passages were so hard to stomach that I skipped a page here and there. But I had to see it through.
He deserved the Nobel Prize.
It reminds me a bit of when I read books by Toni Morrison. A lot of misery there too. Yet I am completely hooked. Hmmm, she was awarded the Nobel Prize too.
By the way, according to the translators note, Yan is actually the author's first name. I have to admit when I first saw the book in the library I didn't remember who he was. I even thought the author may be a woman, because the cover said: acclaimed author of "Big Breasts & Wide Hips". But then, would a woman choose such a title? Who knows!