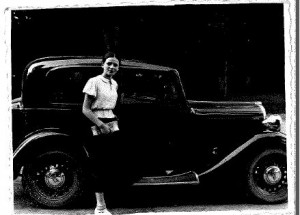 Note: This is part three of a new Saturday series, in which I, with crowdsourcing help, try to unravel the mysteries hidden in previously unknown letters written by my mysterious step-great aunt Dvora /Dora before and during WWll in Poland. For further explanations see previous post.
I began my journey into Dora's letters with one that was clearly dated and was easy to read. However, it has become clear to me that it isn't the earliest letter. I believe this one is, based on the content. The date isn't completely clear and there are some words I can't make out. I'm looking forward to your suggestions as to what the missing words may be.
But first, regarding the date. It is obviously Dec. 28 and not the year 1928. As you will see in the quote letter below, it sounds like it was written in the winter of Dora's 11th grade. For years it was common here to use the European terminology and refer to 11th and 12th graders as seventh and eighth formers. Since in the previous letter we clearly saw that Dora graduated in May 1938, I believe this letter was written in Dec. 1936.
The first question is what then is written after the name of the town, which is the Polish spelling of Brest?
The second question is do you think the word in red is really "blush"?
Finally, can you make out where Dora went on holiday?
In the letter Dora writes ( as always, quotes include original errors in English):

"I beg your pardon for my long not writing. So it is, each man is occupied by his own work, and sometimes forgott even about sister. But when I recollected about you I feel that I am not in order according to you. Now when the father writes you a letter and I have time (it is the time of Winter holidays) I write you also a few words. Blush. "

" I can not write you because in the last time I have no patience to write letters and I have not also a dictionary, so that is enough difficult for me. You see until to day I can not write well English without a dictionary because my knowledge is confined.
About me I can write that I am in the Vll class and on the second year I shall end the school. I have very much work because we prepare to the mature exam on the second year.
In summer I was in ???? It is an healthing place. I spent here the time very well.
Now I finish the letter. I send you my lovely regards.
You Sincerly,
Dora"
I'm looking forward to hearing your thoughts regarding my three questions!