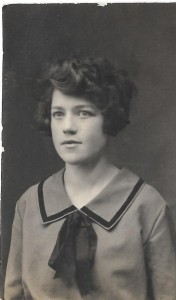 Note: This is part eight of a new Saturday series, in which I, with crowdsourcing help, try to unravel the mysteries hidden in previously unknown letters written by my mysterious step-great aunt Dvora /Dora before and during WWll in Poland. For further explanations see previous post.
Note the text marked in blue. As an English teacher I can say I've never read an error that so broke my heart. We know her future...
This is part two of last week's letter. There's a word I can't make out in English with a word in Yiddish above it. A kind soul online thinks it might mean"respected". I can't quite see how it fits in.
"…. I have not a dictionary and not using English I forget from time to time. My English is very bad now not true? That I can write you about me. I can add more, that my cousin from Kowel invited me to come to him for the Pesach. I could amuse myself for some days. But from known to you causes I can not come to him.
Perhaps have you good bews for us? Please don't loook that I write not soon, write sooner answer. Understand, that I am younger and therefore all the troubles influence on me so strong. I must confess that I am not at all ??? Each little thing oldnesses me I don't know what it is. Perhaps it will pass when all things will be better.
I write a little too more and such things that I have not to write. I hope that you will nit be angry, sometimes a man must tell something from the heart, it is very difficult to keep all in himself. Excuse for the letter full of blunders, I think you will understand it.
How do you do? Have you work? Let we hope that the bad will not be for ever, and there will come better times to our family. I shall finish now. My lovely regards to you and all our uncles and cousins.
Your loving sister,
Dora