(Note – For explanations about the "Who were you, Dora?" series, click here.)
If this were the United States, there would have been billboards along the road to Antopol advertising it as the village where you can get the authentic early 20th century "Shteitel" life experience, today.  A horse and cart (with a ticket booth!) would have been waiting by the sign to take you on the ultimate village tour. Merchants on carts  would have been a common sight on the Brest-Antopol road in those days, but I can't help but wonder how commonplace it was for them to pick up a little girl from Brest running away from home to the village, as my grandmother frequently did.
We walked around with an enterprising local woman (with our guide smoothly translating) who has her own little set tour of the place. Only 800 people, perhaps less, live here today. Not many young folks at all. Once there were several thousand residents, 80% of them Jewish. The woman points at a neighbor passing by and calls out – he lives in a house where Jews once lived. The man replied "I haven't found anything valuable so I'm not sure about that".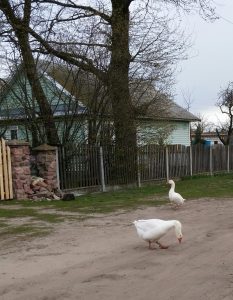 The local guide pointed out where the synagogues once stood and the school but I was much more interested in taking in the remnants of how life was, rather than where things once stood. Others have documented that better than I.
The marketplace was once vibrant and bustling. Several times a month the locals from the region would come to trade. As relatives have mentioned, the village was known for its cucumbers.
Seeing the remains of the cemetery was heartbreaking. So little left and in such bad shape. At the time we didn't know that the other ones we would visit were in much worse condition. Someone had donated a fence for this one.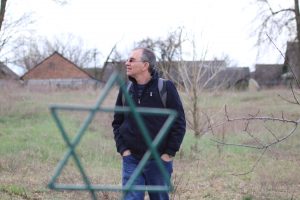 The local guide completed the tour with  a visit to a little museum with household goods. She was very amused by my ignorance of old methods of ironing. I didn't tell her that my grandmother preferred to fold the shirts and then sit on them!
There was no list (even just of surnames!) of former, pre war residents of Antopol, nor was the local guide familiar with any names. Archives again! Considering the fact that my grandmother had uncles, aunts and cousins from both her mother and father's side in the village, and married a local boy (big mistake, by the way – but that's another story) I must have been related to a huge amount of residents there…
A very moving visit indeed!
Our guide, Andrei Burdenkov, posted two videos of our visit. Here they are: