Spelling, grammar, vocabulary – it is well known that these skills improve the more students practice their writing. Naturally, when students have an authentic audience to write for, they are markedly more motivated to pay attention to their writing.
In addition to all that goodness,  I discover time and again that such a kind of writing leads to many other meaningful things as well. Meaningful for both the students and the teacher.
I just want to share the joy!
My lovely co-teacher just gave birth and I opened a Padlet virtual wall so that the students could write congratulatory notes for her. My teenage students like  Padlet's cool backgrounds and the ease in which they can edit and add pictures.  So it's always a good choice for me. The students were eager to wish their teacher well – no prodding was necessary.  It's good for a teacher to be reminded that the students care!
MOTIVATION – Got that covered! CHECK!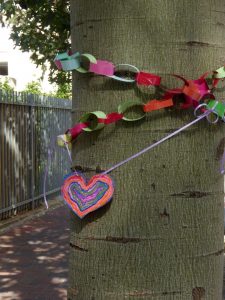 One student  wished the teacher "good health and happy" so we talked about happy vs happiness. Another expressed hope that the teacher would come back next year with " new powers", which is a direct translation from Hebrew. So we discussed leaving "the powers" for the superheros and went with "lots of energy". In short, the kind of discussions an English teacher expects to have, you know what I mean. Some mistakes I did not correct or point out – going  over each note with a fine tooth comb would have been counter productive.
VOCABULARY – SYNTAX – GRAMMAR     –  CHECK!
One student started to write his note saying that he hopes the teacher feels better again soon and will come back to class as soon as possible… We had a talk about the fact that  having a baby is not like being sick and in any case the teacher won't come back soon, she's on maternity leave. I had a similar talk with a girl in a different group who wanted to write a note but claimed she only knows what to say when someone is ill. We mentioned useful phrases for this situation in L1 as well. Other students did not have this problem and even asked for pictures!
PROMOTING SOCIAL SKILLS – CHECK!
One student wrote a particularly long note. Half of the note was devoted to telling the teacher to make sure her husband takes care of the baby too. A sample sentence: "you gave the new baby for the world and father need to do something also.hahah :)". It was a strong reminder of the student's own "thorny" fatherhood woes  and how it must be an issue close to his heart. I did not point out any errors at all on this student's note…
INSIGHTS INTO WHAT'S ON STUDENTS' MINDS – CHECK!
I saw one student having Google translate an entire paragraph typed in L1. I was about to protest strongly  (they are not supposed to do that in class!) until I saw what she had written. The kind of "flowery blessing", which was obviously something she had encountered at home, was important to her. "This is the right thing to  say when someone has a baby", she said with a big smile. The student would not have been able to produce sentences such as the following on her own: "That the sun on you will always shine. And your family will grow and blossom. That they sow endless love". So I just smiled back and didn't say a word.
LEARNING ABOUT  STUDENTS' CULTURAL BACKGROUND – CHECK!
In short, wishing someone else well, in written English, did us all good!