On the last day of school I found myself, once again, visualising the first day of the next year school year. It's the easiest day of the school year to visualise, unless you bother to count "the last day", which I always spend stowing away supplies in the English Room.
It goes without saying that I see myself smiling and chatting with the students as they come in (or stop by) about how they spent their summer vacation.
However, there won't be any formal lessons related in any way to the theme of "How I Spent My Summer Holidays".
All because of "The Fishbowl Response".
The what?!
You know, the response you get when you cheerfully inquire what a student did over the summer and he/she mumbles "Nothing" and turns quickly away.
So what does that response have to do with a fishbowl?!!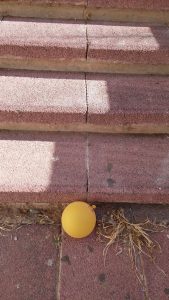 The phrase "the fishbowl response" was inspired by a story Jamie Keddie told in one of his "Sunday Posts", which I subscribe to. Keddie brilliantly combines visuals and storytelling – I love how a simple sign or an object becomes a thought-provoking story! In the post entitled "Are You a Fish in a Fishbowl?" Keddie tells us about a story from his own school days. In response to his teacher's question ("What did you do at the weekend?") he replied "nothing".
She demanded to know if he was a fish in a fishbowl.
Oh!
My first reaction was a gut reaction.
I could never say that to a student, and I don't think anyone should. Perhaps I'm particularly sensitive since I'm a Special Ed teacher, but children who reply with "nothing" are feeling vulnerable enough as it is, and are not likely to ponder metaphors and hidden meanings. In fact, they can easily feel insulted.
When you read the post you quickly see that Keddie's point is that even  a fish in a fishbowl actually could have a story to tell. You don't have to have had an exciting , eventful summer in order to have a story to tell. Your thoughts and experiences matter.
So, considering that I agree wholeheartedly that every student, no matter how "boring" his/her summer vacation was, has something worthwhile to share, why do I refuse to plan a lesson on the topic?
Because it takes time, every single year, to create a safe classroom atmosphere – a class where everyone's story is respected. Some teenagers, particularly in special ed classes, have pretty lonely summers. Not only do we need to teach students to respect someone else's story, we need to teach students to recognize and respect their own stories.
That takes time.
One more thing, before you go:
Think about the "fish in the fishbowl"  for a minute longer. See how Jamie Keddie's simple image becomes a focal point and helps get the message across?
Images matter.