The scene is familiar, students seated in rows, one to a table, with an exam paper in front of each of them. Their school bags are lined up against the wall and there's a dictionary on each desk.  All the students are focused on their exam papers.
However, the room is quite small. There are only nine students. There were supposed to be ten students but one of them, today of all days, missed his pick-up time for the transportation to school and is absent (hmm, I think to myself).
I ponder the advantages of being Deaf during an exam. The room assigned to us overlooks a parking lot of a neighboring municipal building. I seem to be the only one bothered by the noise of the vehicles, and the people talking too loudly on their cell phone. A student in the back taps his foot nervously and no one is perturbed by the repetitive tap tapping.  I'm relieved that there are no real hard of hearing students in this particular class – that kind of noise drives them bonkers (the students who hear better have turned off their hearing aids, I tap them on the shoulder if I need to tell them something).  That is until the nervous student starts knocking his pen against the desk. The student sitting in front of him immediately picks up her head, puzzled. She doesn't know what she is hearing and which direction it is coming from. I explain and ask the other student to stop. He hadn't noticed he was making a sound. Everyone else is working quietly.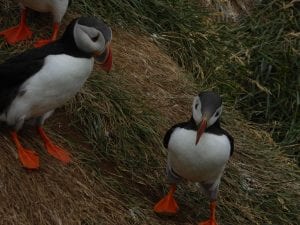 Then it happens.
The same nervous student in the back gets up for a moment to stretch (the chairs never seem to be comfortable for these really tall boys!) and makes a funny face. I smile at him with a sort of silent laugh and motion to him to sit back down. Another student is instantly alert. What did he miss? What went on here? Why was I smiling? Did I say something when I was moving my hands?
You can't say "It was nothing, keep working". Deaf students are very sensitive about feeling left out of things. They have to deal with that feeling a lot in the world outside the classroom.  So there I am, explaining in Israeli Sign Language, about me smiling because of the student who made a funny face and that they both should get back to work when other students pick up their heads. They picked up on the sign language and needed to know what was going on.
In short, I ended up with a "commercial break" in which everyone got the update regarding the funny face made, that nothing more than that went on, no one missed anything and would they please go back to work.
And they did.
I'm still glad I smiled.  Even though it caused some trouble.
Smiles are worth it.
*** Note:  I enjoy following Jamie Keddie's postings as he inspires teachers to take their own stories and use them with students and with other teachers.  This week his bi-weekly post happens to tie in with mine, as it is about communication or rather miscommunication!
"There is a  Scarface in the bath" by Jamie Keddie