ETAI's  ( English Teachers Association of Israel) upcoming international conference hasn't even begun yet and I'm already having fascinating conversations because of it! One of the many benefits of ETAI conferences is that they often provide an opportunity for teachers in the field to meet and converse with influential researchers from the world of academia.                     (Details about the conference here).
Plenary speaker Prof. Emeritus Claude Goldenberg, from Stanford  University kindly agreed to have a long distance conversation with me, in which we discussed bilingual literacy,  hands-on experiences in the classroom and what the song "Mustang Sally" has to do with his retirement!
Naomi: You have done a lot of work related to literacy development in bilingual settings.  What attracted you to language development and literacy in bilingual settings?  
Prof. Goldenberg: I was born in Argentina. My family came to the United States when I was three and a half. I  grew up bilingual. My parents literally did not allow me to speak English at home, even though as soon as I learned English I wanted to talk English all the time. They enforced a "Spanish Only" rule. I would complain, but they would say, "You'll thank us one day."
When I was growing up I never thought I'd go into education. In college, I majored in history but became interested in education as a way to help eliminate opportunity gaps in our society. My parents were living in San Antonio, Texas when I finished college. Since there is a large Hispanic population there, and I am fully bilingual, I thought I would have more tools to be helpful. So I began teaching in a junior-high-school in San Antonio. I had good intentions but wasn't well prepared for teaching. Like many other people, I hadn't realized before that time how teaching really is a profession that requires training. It was not easy!
However, I wanted to learn more about the reasons I was meeting students who were 13 or even 16  years old with poor literacy skills along with a lack of motivation and what I could do about this terrible situation.  So I did two things:
I did my Ph.D. in the field of Early Childhood Education at UCLA, focusing on literacy, since it is one of the major foundational building blocks of education, and
after completing my Ph.D. I took a job teaching first-grade so that I could get a better understanding of teaching from inside the classroom. 
You could say I was immersed in the world of early literacy and language learning, bilingual education and English as a second language.
Naomi: I have to admit that as a teacher I'm delighted to hear that you are a professor who has had actual hands-on teaching experience in the classroom! Is that connected to the choice of the title of your plenary talk:  "Teachers' Critical Role in Managing the Transition in English Language Education"?
Prof. Goldenberg: My teaching experience ingrained in me the understanding that it's one thing to do research and make pronouncements based on that research, even assuming it's valid research.  However, it's the teachers who know the contextual reality of running a classroom and being in a school. Both perspectives are necessary for any improvements in the system.
Naomi: You mentioned English as a Second Langauge. I'm sure you are aware that in Israel, we teach English as a Foreign Language. Students here speak many different languages at home that may differ from the official language at school, besides learning English (including Sign Language! I teach students who are Deaf and hard of hearing).
Prof. Goldenberg: Yes, Israeli students come to EFL class with diverse linguistic backgrounds. Speakers of Arabic, for example, begin their schooling with spoken Arabic and then learn written Arabic, Hebrew and then English. Other students may speak Russian, French, Amharic or Yiddish at home. It is incredibly complex. Yet if you think of it as a Venn Diagram, there are overlaps between teaching a second language and a foreign language.
The point is that we need a common framework. Most of the world uses such a framework – it's known as the CEFR (Common European Framework of Reference for languages). It's a good place to start. English has become the Lingua Franca and Israeli students should be competitive on the world stage in English. In order to achieve that goal, we need to define the desired outcomes and then plan backward to see how to accomplish them.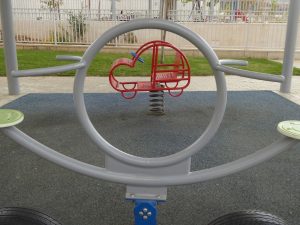 Naomi: And the final question I ask all the speakers I interview; What do you do in your free time?
Prof. Goldenberg:  I actually just retired on August 31. So I have a lot of free time. I like to travel. I like to drive cross country. In fact, that's what I've been doing a lot of over the past 10 months.  For nearly fifty years I've had this dream of driving cross country and seeing things and talking to people.
I post about my travels on my blog called "Travels with Sally".  Sally is the name of my car. It is a Mustang and the name refers to a famous Blues / Rock and Roll song "Mustang Sally".  "Travels  With  Sally" is also a reference to the book by Steinbeck "Travels with Charley".
Naomi: Thank you for taking the time away from Mustang Sally to talk with me! I look forward to hearing you speak at the conference!