One of the exciting things about attending an international conference is meeting people whose belief in the power of teaching and teachers has had global impact. The upcoming ETAI International Conference (July 4-6) brings us inspiring  educators from around the globe.  I'm honored to post an interview with TESOL President Andy Curtis,  a plenary speaker at the conference, who talked to me about becoming a teacher in the face of adversity and how teachers on the global level have more in common than we tend to think. Many thanks to President Curtis for this interview!
NE:  What profession did you dream of when you were a child?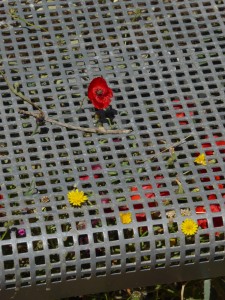 AC: My parents came to England in the 1950s, as poor immigrants 'imported' from the British Empire in Guyana, South America, as cheap labour for the 'Glorious Motherland'. Added to that, there was great deal of racial violence on the streets of England in the 1960s and 1970s. Consequently, we did not have much of a childhood, and our main goals revolved around making it to adulthood intact. For a while, I harboured hopes of being a writer of fiction. But like many immigrant parents, trying so hard to protect their children from the prejudices they experienced as adults, the creativity was knocked out of us, and we were duly funnelled into 'vocationally appropriate' directions. For me, that meant the health sciences, and a medical scholarship, which I eventually gave up, to my parents unending disappointment, to become a language teacher, which for my Dad, just added insult to injury.
NE: What caused you to leave the field of medicine for teaching? What was your first teaching position?
AC: In my original professional incarnation, I was a Medical Science Officer in the UK National Health Service, with a specialism in Clinical Biochemistry. I very much enjoyed being on the hospital wards, working with patients and doctors, helping to align diagnosis with treatment. But after some years, I began to be disheartened by the singularly 'curative' approach to healthcare, in which we waited for someone to get ill, then tried to cure them, usually with hit-and-miss approaches that sometimes worked, eventually, but which, as often as not, made the person more ill. In those days, if you weren't sick when you went into the hospital, you sure as hell would be by the time you got out. On top of that, people were reduced to a set of compartmentalized symptoms, stripped of their clothes, and of their dignity. My first teaching position was as student teacher in a secondary school in a poor part of the Northeast of England. After 25 years, I believe I have helped to save far more lives than I would've done as a medic.
NE: How/when did you first become involved with TESOL? Do you still remember the first conference you attended?
AC: After completing my MA in Applied Linguistics and my PhD in International Education, both at the University of York, in England, I was keen to go overseas, so I applied for and was offered a job at the Hong Kong Institute of Education. That was in the mid-1990s, and as me and my siblings were very much products of the British Empire, in India, I was curious to see what another, far-flung, country, but also part of the Empire – and a symbol of its demise – was like. One of the best things that happened to me during those first five years in Hong Kong (1995-2000, and I went back again, from 2007 to 2011) was that TESOL Past President Kathi Bailey, was a one-year Visiting Professor at our university (The Chinese University of Hong Kong, aka CUHK). Kathi encouraged all of us in the ELT Unit at CUHK to become members of the TESOL International Association. I attended my first TESOL Convention in 1995, when it was held in Long Beach, California.
NE: What do you enjoy about being President of the TESOL International Association? 
AC: It's been a gruelling but great two years in TESOL's presidential line, with one more to go. As it turns out, being the President during the Association's 50th anniversary year, and presiding over its 50th anniversary convention, has made it an especially intense couple of years. But the two hundred thousand miles that I travelled, between 2015 and 2016, gave me the opportunity to meet thousands of members of the Association in dozens of countries. Some of our friends, in our home base, in Kingston, Ontario, Canada, who do not travel much, say to me: "You must love to travel". I try not to sound ungrateful or to be grumpy, but the truth is that, as the result of ever-increasingly global conflict, any kind of travel, especially international travel by air, is an increasingly unpleasant experience. But the being there makes up for the pains of the getting there and getting back. To have teachers, from all over the world, tell you their personal-professional stories has been a humbling and moving experience.
NE: You have worked in several different countries. Did you find significant differences in the teaching methodology or attitudes towards the profession in different countries?
AC: It's interesting that I'm often asked about the differences, while what I usually see are the similarities. For example, the fad-fashion/claim that we are "post methods" does not appear to be true anywhere. Hearing teachers tell me about what they do in their ELT classes, and sitting in their classrooms, I can hear and see that they are all using methods of one kind or another, even if they do not use the labels assigned by applied linguists, such as CLT, TBLT, etc. But we are now beginning to fully acknowledge what I refer to in my work as 'the centrality of context', in which where we do what we do is at least as important – and maybe even more important – than who does what to whom, in the language classroom. Certainly, the Technological Divide, in terms of the haves and the have-nots, can make a big difference, but the qualities and characteristics of a 'good learner' and a 'good teacher' appear to be much the same wherever I have been.
NE: What do you enjoy doing in your spare time?
AC: I joke that – but like all such jokes, there is a grain of truth in it – my family's motto is: "Why be merely interested, when you can be completely obsessed". So, when I signed on to be in TESOL's presidential line for three years, I chose to give up a well-paid, full-time academic position to this work for three years, with no salary. As a result, although this is not a healthy, balanced or sustainable approach, I have had little or no spare time in the last couple of years. But my list of things that I will go back to doing, next year, such as Tai Chi, Curling and Fishing, is growing longer by the day…