I've delayed writing this post for several weeks.
It's really hard to write about.
I've been making every effort to focus on the LIFE that once was before all hell broke loose, but the bones are, quite literally, crying out their reminder of the DEATH.
This post is an unplanned postscript to the Saturday Series, in which I, with crowdsourcing help, try to unravel the mysteries hidden in previously unknown letters written by my mysterious step-great aunt Dvora /Dora before and during WWll in what was then Poland.  For further explanations about the series see the previous post here.
As I wrote in my posts,  my goal was (and continues to be) to find out as much as possible about Dora's LIFE – the schools she went to, how she spent her time, what her neighborhood looked like and more. The LIFE she lived in Brest, Belarus (then Poland) before its violent end,  most likely on October 15, 1942,  aged 22, at nearby Bronnaya Gora.  Dora and her father were registered by the Nazis when entering the Brest Ghetto in November 1941, as you can see here. Dora's name is on line four. Her father's name is the one on the last line.  To read about the fate of those who entered that Ghetto, read here.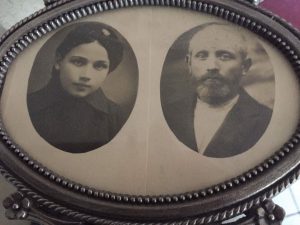 But was that Dora's fate as well or was the following how her life ended?
In February of 2019, on a  construction site of an apartment block in Brest (Dora would have referred called it "Brisk")  the remains of about one thousand murdered Jews was discovered, with bullet holes. Remains of people of all ages. The site is on the location of the Brest Ghetto. It seems that those who somehow managed to escape the massacre of October 15 were murdered here. This is a link to the BBC post which will give you more information, without pictures of the bones themselves – those can be found on other sites.
I can't possibly answer and will not try to answer the question of whether or not Dora's remains were there as well.
What I can do is repost Dora's last letter here, dated August 25, 1940, when she was 20, years old, her dreams of going to university long gone.  It is fitting to reread her words.
"Dear Sister,
Your postcard procured us a great pleasure because we did not hope yet to get letters from you. Nearly a whole year passed that we did not correspond one with the other and has delightfully is that we can at last write one to the other. I forgot almost write English during the time, because I am not using it.  
What to me I have none news. As you know I did not succeed in life to this time. I must reconcile with that. The housework is very not interesting and I am busy day by day at house.
From Palestine we have not any letter. There is very unquietly. The father works at a state working place. He will also write you a letter the next days.
Write as soon as you will get this card. Let us hear good news one from the other and the rest family.
Your sincere Dora"
No good news came.
So very very sad.