"No". That's not something we teachers find it easy to hear, or to accept. We put so much energy in explaining, clarifying, supporting and encouraging. We volunteer our own time and try to go the extra mile. It is difficult to understand that sometimes what is truly right for the other person at a certain moment simply is not what we are trying to give.
The author of this guest post, Dorit Renov, shares her experiences and insights on dealing with "NO" as a response. Dorit has been an EFL teacher for over 40 years. Besides teaching, Dorit volunteers as a medical clown, is an actress, and taught art for many years. This post is an excerpt from her upcoming book.
"Fill in this space, you still have some space on the page."
The 18-year old volunteer at the center for mentally-challenged adults pointed to the white space around a cluster of colored brush strokes.
"Here, you have place here for some more color."
"Well, actually," I told her later, "If you remember from my instructions, white space is fine. We don't have to fill in white space. We, in fact, don't have to do anything for our people here at the center. They can decide on their own how much white space they want to cover, and they can decide what colors to choose."
"So what do we do?"
"We assist them physically if they need it. And we provide friendly company. We don't decide for them."
"But what if they want another page and they haven't finished that one?"
"There's no such thing as finishing a page. Each individual is capable of deciding when she or he has completed that work and wants to move on to the next, regardless of that individual's IQ level."
We strive to touch the individuality of the person, to help that person express himself or herself. We talk of self-expression as an important aspect of education or interaction with those tutored. And then we fill in their white spaces?!
Making decisions is a vital part of our independence and it is an expression of our very essence. I choose x rather than y because my essence wishes, has an affinity for, x.
Making choices is vital.
And it lends dignity to people in all situations and conditions."Help the people here make their own choices. When Lior chooses red he has expressed his own-ness, his self. His self wants red there. And when he says or indicates 'Enough', that means that he has chosen to see this page as complete. It is not our place to question that, for we are not him. And he has been him."
"Um…"
"Um, okay? Um, I understand?
Um, you're digesting this?"
I respect your um, and you respect the white space.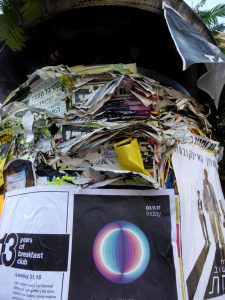 So one day, we – the staff – thought our young adults could take further part in the decision-making, and vote for certain programs at the club. Sitting in a circle, they were introduced to the program, what it would include – in a simplified manner, of course. The voting began and each one could say "Yes" or "No", whether or not the program should be implemented. After a few yeses, the nos began. The first one to say no said it for his own reasons and the avalanche of nos that followed seemed to simply echo the first no, in the sense of "No" sounding good.
And so, a perfectly lovely program that I had devised was now not to be implemented, simply because no sounded good to say, it being fun to say "No".
"What shall I do, Adva?" I asked our team leader.
"Well, wait a while and maybe we won't vote in the near future."
Making choices it would seem is best done within the limits of one's capabilities. Voting yes and no may be a tad more difficult than choosing whether or not to fill in that white space on the page.
Clowning at the adult cancer center at a local hospital, I look past the open door of a room in the ward, to a woman lying in bed while a younger woman is sitting beside her. I ask quietly, and with a smile, if I may enter – my appearance leaving no doubt as to my intentions. I have a red nose, a chicken-hat on my head, a colorful vest and equally colorful trousers. Not too much color on my face, just red to emphasize my smile.
The woman in bed shakes her head, so I send a kiss in the air with my fingers toward her, smile, wave and disappear. I am very pleased that she said "No."
The hospital is a place where one can seldom express one's will. We are not asked what we would like at the hospital. We are told what to do, and people barge into our rooms with no prior permission or notice. Medical staff, cleaning staff, visitors – all enter at their own will.
I may be one of the few who asks permission, and I therefore consider it a great privilege of the patients to state their desire to have one refrain from entering.
I can definitely say that I am just as pleased to receive a "No" as to receive a "Yes", since for just one moment that particular patient has exercised her or his will. I consider that moment to be the most I may humbly contribute, for I have no knowledge of anything more.
That is the moment of being oneself, touching one's own essence, touching the healthy and oft-forgotten side of one's being.
And so, the word "No" may be very pleasant to one's ears in certain circumstances, and in the hospital it warms my heart.