Goal 16 of the 30 Goals Challenge is "Change Your Environment".  I really agree that both the students and I need a change sometimes. So far the only thing I do is sometimes take the kids to the computer room. However, unless I plan really well the time spent there may be fun but not suitable for all the pupils at each level.  In addition, I now have one computer in my class (no Internet). That's great because its often one or two pupils who need a computer activity and it becomes a work station.
So, I thought I would take a better look at the classroom and share some pictures with you. I've been thinking about moving the tables around, hmmm….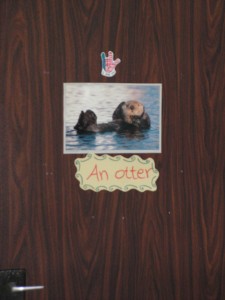 That was the door from the inside. Now here is the YALP Project area. Inthe photo you can see the group diplomas I recently put up to add some spice (till now it was just individual tracking sheets).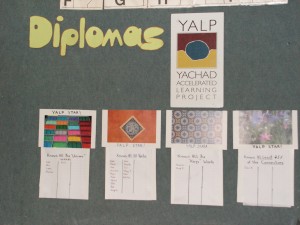 Now here are the BIG BINDERS. Each of the 70 kids has a personal plastic bag where they can keep pages or  where I put worksheets for them in advance.
Here are the regular binders with workplans, fun questionnaires (such as How romantic are you?), exercises, etc.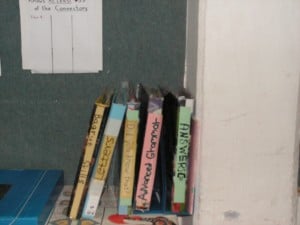 Some wall photos:
The old tables and chairs:
The picture of the broken window didn't come out too well. There is also a picture of pages from a calendar stuck on the wall, depicting words in Enlgish, Spanish and American Sign lang. Some kids are interested in Spanish! Didn't include a picture of the computer, its just a computer!
Last picture – the closet! Take note of the picture for "FALL"  – just right for the poem "The Road Not Taken"!