I admit it.
Although THE PANDEMIC has been wreaking havoc on our lives for over a year and a half, I had not known there was an acronym out there that described the situation we are facing as teachers in the school system.
An acronym derived from four different words.
Words matter.
Defining a situation and looking at its components enables us to find footholds and add pegs to hold onto.
And then move forward.
As a teacher feeling concerned about beginning another school year in the shadow of the pandemic, I am certainly interested in a model for dealing with a difficult situation, even if it comes from the business world.
VUCA stands for:
volatility // uncertainty  // complexity // ambiguity
The following "definitions" are quotes from "What VUCA Really Means for You" by Bennet and Lemoine.
The suggested responses are my adaptations of their business recommendations.
 VOLATILITY
"The challenge is unexpected or unstable and may be of unknown duration, but it's not necessarily hard to understand."
The challenges posed by teaching under "pandemic conditions" are no longer unexpected but they certainly are unstable.  We could be teaching in-person in class one day and remotely the next.  Many students could be absent due to illness and quarantine or perhaps the students will be divided into groups again. And we certainly don't know how long this unstable situation is going to last!
     The authors' business response works well for education:                "… devote resources to preparedness…"
LIGHTBULB MOMENT for STRESSED TEACHER SELF 
Even though I may not know what a day of teaching will look like at any given point, the time I have already invested in creating digital versions of my classroom materials means that I AM somewhat prepared for an unstable new year! True, I haven't digitized all my material yet, but continuing to do that is certainly a clear-cut achievable goal that will have a positive impact.
UNCERTAINTY
"Despite a lack of other information, the event's basic cause and effect are known. Change is possible, but is not a given".
Gathering information about the pandemic (aka "event") itself isn't really a helpful option for a teacher,  since the school management and others don't know when there will be a lockdown or new restrictions either.
However, if we focus on the authors' emphasis on sharing information, the connection to education becomes clear. Invest in building/strengthening your ties with other teachers  – what are they doing? Did it work?  Do they know what you've been doing?  Even the things that didn't work? We are not alone!
Sharing equals strength.
LIGHTBULB MOMENT for STRESSED TEACHER SELF
Yes, I will probably be frustrated and even VERY FRUSTRATED at times during the upcoming school year.  It's unavoidable. When it happens I must remind myself that I do belong to quite a few online groups for teachers, so if no one at school has time to talk to me about it, someone is out there who does have time to listen and discuss.
But before anything else, my first response should be to BREATHE!
COMPLEXITY
"The situation has many interconnected parts and variables. Some information is available and can be predicted but the volume and nature of it can be overwhelming to process."
The authors recommend building adequate resources to address the complexity (and bringing in specialists, but that's not realistic in this case …).
As far as I'm concerned that means dividing the work of creating a large number of resources that cater to students with different needs.   The instability of the situation doesn't end when the school day is over, it affects our daily lives. Sharing and dividing the work are the only antidotes I can see to feeling overwhelmed.
LIGHTBULB MOMENT for STRESSED TEACHER SELF
This is something I need to work on more.  The pandemic isn't going away tomorrow – this is a call for action!
AMBIGUITY
"Causal relationships are completely unclear. No precedents exist; you face 'unknown unknowns."
No precedents.
I have never taken an in-service training course on teaching in a situation in which the normal progression of a school year is so frequently disrupted for such an extended period of time – that situation is so unprecedented that I couldn't even imagine it until it happened.
Causal relationship?
Will the students retain vocabulary when they learn online and have GOOGLE TRANSLATE at their fingertips?
Will having the students write their answers on paper and then send me pictures of it force them to really look at the words in the sentence carefully despite using translation programs?
I don't know.
The business advice here is spot on but not so easy to adopt.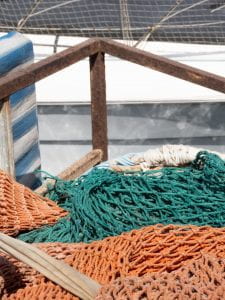 The authors recommend EXPERIMENTING – thinking carefully of strategies that could solve issues, trying them out, and learning from the results.
To some extent, we all do it. What else can we do in such a situation?
However, this requires dealing with failure and learning from it. I don't know how it works in the business world, but as a high school teacher, I find experimenting to be a safe and useful approach in a limited way.
Yes, the students responded well to acting out a poem in class – Do More of That.
No, the students did not seem to really engage with vocabulary when I used a certain word puzzle, nor did they particularly enjoy it – Don't Do That.
But high school is a setting with high-stakes standardized exams. You don't have a lot of wiggle room.
In addition, in order to learn from results,  experiments should be planned carefully.  Some outcomes are difficult to differentiate from others – how do I know if it is because of a certain strategy I tried?
LIGHTBULB MOMENT for STRESSED TEACHER SELF
So here's something in my life that the pandemic hasn't upset. I'll continue to try, from time to time different ways to practice vocabulary or work on a text or anything else.  That's what I've always done.
Finding something that hasn't changed is comforting too.
Don't you think so?