I've been attending Parent / Teacher Nights for a great many years both as a teacher and as a parent and have never seen it as an opportunity for professional development.
That is, until now.
Perhaps my time in "blogosphere" has opened my eyes.
I had the opportunity to witness an amazing example of how a teacher communicated with a 10th grader and her mother.  The student was full of complaints. She didn't think it was a big deal that she used her cell-phone in class once or twice  and sometimes talked during the lessons. Also she claimed that she knew English at a much higher level than the grades she got indicated. You could tell that the mother was indecisive regarding whether she should be berating her daughter or justifying her behavior.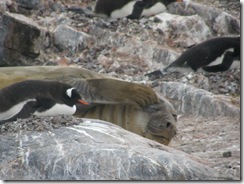 Photo by Iddo Epstein
I expected such a beginning to lead to either one of two outcomes, both exemplified by the photo above:
1)  The teacher (penguin) scolds the parent for turning a  blind eye to her offspring's behavior while she, the teacher, is the one who is really trying to look after the student's best interests.
2) The parent (penguin) scolds the teacher for being mean and vindictive towards her offspring. The teacher just wishes she could disappear and be somewhere else…
This meeting did not go in any of these directions. It lasted for twenty minutes (!!!) and it is difficult to describe in words exactly what went on. I wish I had been able to videotape that conversation! It would have been great to see it again and to discuss it with others.
What I can say is that the teacher kept her voice relaxed and pleasant the whole time. No scolding tone. She stressed how delighted she was to hear that the student knew more English than her grades reflected but the only way the teacher can know such a thing is if this knowledge is shown. If the student doesn't participate and talks to her friends during the lesson then she is forcing the teacher to rely only on her grades. The teacher also repeatedly explained how important it is to maintain a good "learning atmosphere"  in the class and that she cannot allow disruptive behaviors that interfere with everyone's ability to focus. The teacher repeated how delighted she would be to take note of any new manifestation of her knowledge of English but not once did she back down from anything that she had said to the student during class or any behavioral comments that had been reported.
The meeting ended with the student promising to participate more in class so the teacher could see her skills in English in action.
All the indicators of tension-leading-to-attack mode were diffused.
Both sides left the table optimistic and satisfied.
WOW!
* NOTE: This photo was taken in Antarctica by Iddo. That's a Southern Elephant Seal and a female, which is why you don't really see much of a trunk.
Iddo said that the penguins there scold the Elephant Seals a lot. In one instance, in response to such a scolding, a seal rolled over and hit the seal beside it with its flipper. The second seal did not hit the first one back, but rolled over and hit a third one instead! This was passed down through three more seals until there was no one left within "hitting" range!
Scolding doesn't seem to do anyone any good!