There's something absolutely exciting about getting a large number of poll responses from people. It begins with a feeling of awe at the number of people who spent some time thinking about what I had asked. It's as if I had spoken briefly to each and every one of the ONE HUNDRED AND TEN people myself.
Then came the drowning sensation. I've prepared many talks and usually have a very clear picture of what I want to achieve. Suddenly there was so much data! I could take it in so many directions! For a while I was stuck.
The talk was for "Shema" itinerant teachers. These are qualified teachers who tutor students with a hearing loss in elementary and junior high-school. They teach whatever subject the children  need help with, including English when necessary. But they are not English teachers and most of them aren't Native Speakers either.
I posted survey questions in Hebrew for these teachers, both as a wake up call to be more aware of services and support they could be getting and aren't utilizing, and as a way to get more information for myself regarding their needs.  93 itinerant teachers answered the survey questions.
I also created a survey for English teachers, which I posted on our wonderful local network, ETNI. 12 teachers answered the survey in English
I must point out that the part of posting the surveys was very easy indeed, thanks to Adele Raemenr, who introduced me to Google Docs in a session at the Jerusalem  Summer ETAI Conference.
Here are some of the results (note that the numbers refer to actual numbers, not percentages. They don't always add up to 110 as not all the teachers answered all the questions).
The English teachers did not agree whether or not it was important for a Shema teacher to have her own copy of the teacher's guide. There was a question of how helpful it could be for someone who was not a qualified English teacher.
Of the 30 Shema teachers who attended my talk, only one had ever looked at a teacher's guide in English. In other subjects they had done so.
The Shema teachers, who travel from school to school, were also unaware of what they might find in the school's "English Closet". Here is what the English teacher's had to say:
It was very clear from the survey that many Shema teachers do not feel comfortable aksing the classroom teacher to explain material being taught. 61 of them said they would prefer to have a special            reference/resource site for them instead of asking the teacher.
Considering the Shema teacher's interest in having a site tailored to their needs (which already exists in a smaller format, yet hasn't been used much!) I was surprised by the number of teachers who said that they prefer their resource material to be in printed book form – 36!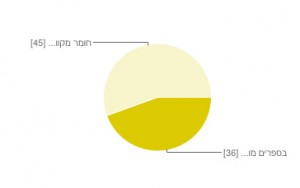 The explanation was that grammar is the topic most stressful for Shema teachers. They want to own a good book that not only has explanations in Hebrew but also has exercises for the students. They want to have it in printed form, readily available whenever needed.
I asked for information, now I can't ignore the answers. So, now I had better get cracking on expanding the online resource material for Shema teachers. I just hope they will use it!