Note – This is post number four following our Heritage Trip to Belarus. My husband's father was Dora's contemporary but naturally, this post is not strictly part of the "Dora posts" series.
Local legend has it that the name Volkovysk (or Vawkavysk) means Wolf's Howl. Whether or not a young boy, who later became my husband's father, ever lay in bed at night, listening to the wolves howl, is something we will never know. Like so many others who literally lost everyone and everything, who for years didn't even have a picture or a simple memento to place on a shelf, he closed the door firmly on his pre-war life and did not speak of it.
We certainly didn't hear any wolves from our hotel situated  in the center of the city, and I believe there aren't any to be heard even on the outskirts of the city nowadays. Winters are harsh in these parts and the windows are thick. Our guide explained that even back then people would nail on  an extra window frame from inside the house for the cruel winter months. Sawdust would often be placed between the frames for extra insulation. Perhaps wolves couldn't have been heard through all those layers of protection…
Volkovysk was a real battleground during World War 2 and large parts of the  city were destroyed. We heard a lot about that part of local history at the local museum. 13,000 people lived there before the war, 7, 000 of them were Jews. 40 Jews returned after the war.  The museum is dedicated to Military History and not to the general history of the place. They were able to tell us that the Jewish community had its own hospital, in addition to the school. There was a large fire back in 1909 that burned down the entire street where the synagogue was situated. The fire was so intense that the foundations cracked and the building collapsed.  The only pictures of pre-war Jewish life they had were from the Yizkor book (community memorial book written by  former residents after the war) which we are familiar with.
So what can one find from the 1920's after such destruction?
Well, the river is still there. We believe my father-in-law grew up in a house that also served as a shop and we surmised the general location with old maps we had (many thanks to the many people who helped us obtain a copy of an old map, more on that in another post…).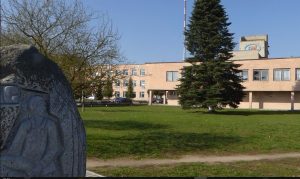 If we thought that the cemetery we had seen in Antopol was destroyed, the one here is barely  discernible (though more so then the next one to come…). We never would have found this field strewn with stones, a few barely recognizable as headstones without our trusty guide. This one structure in the center is the lone sentinel who, unfortunately, does not speak.
The memorial we did find was erected by a killing field, which is located inside a Christian Cemetery.
It's a strange feeling. It was a gorgeous spring day around us but there were lots of dark shadows too…
Here's a video our guide, Andrei Burdenkov took of the streets of Volkovysk.