There are all sorts of sophisticated self-check activities out there, ones that look stunning but seem to require artistic abilities that I don't possess,  props one needs to get a hold of  (such as clear plastic covers of chocolate boxes) or are simply too time-consuming to create.
There are countless variations, such as using puzzle pieces and dominoes and many more. I truly admire these activities and their creators.
Such sophistication is simply not for me. Not anymore.
However,  I did want an effective self-check exercise that I could make on my own, one which I could sneak in a few words from the Band Two Word List that students need to practice.
Particularly one which I could prepare easily.
Easy to prepare like the self-check activity involving two-sided index cards. A student begins with the card that says START, flips it over, matches it to its corresponding index card, flips that one over, and continues matching until he/she reaches the card that says THE END.  If the student flips over THE END  before all the cards have been matched then a mistake has been made, and he/she will have to backtrack.
Simple!
I learned of this activity many years ago from Tal Papo. I'm sure many of you are familiar with it!
In my learning center for Deaf and hard of hearing high school students, the students progress at different paces. That means that each student is ready for a review activity related to the story they have just completed at a different time.
In this particular case, the story in question is called "Thank You, Ma'am" by Langston Hughes.
I defined vocabulary items that are related to this story from the Band Two Word List, as you can see by clicking on the following link. https://quizlet.com/_63ru7n  In my previous post related to this story I defined words from Band Three Word List and the questions I created.
The word "description" ignited the idea for the activity.  The word "belong" fit in nicely too.  The vocabulary items "crime" and "pair" are also on the list.
Here are the corresponding sentences. Remember! The first sentence is written on the back of the card that says START! The words "THE END" appears on the back side of the card that has the last matching sentence. In other words, sentences that match do not appear on the same card!
START –
She was a large woman with a purse.    ** A description of Mrs. Jones.
It was heavy and had a long strap.  It was large.       ** A description of the purse that belonged to Mrs. Jones.
He looked as if he were fourteen or fifteen, frail and thin. His face was dirty.      ** A description of Roger.
In the corner, behind a screen, there was a gas plate and an icebox. There was a daybed too.      ** A description of the room that belonged to Mrs. Jones.
He tried to steal her purse.    ** A description of Roger's crime.
A pair of blue suede _____________.      ** A description of the shoes Roger wanted to buy.
She picked him up and shook him until his teeth rattled. She kicked him too.      **A description of Mrs. Jones' reaction when Roger tried to steal her purse.
She gave him ten dollars and then led him to the front door.         **A description of Mrs. Jones' actions at the end of the story.
THE END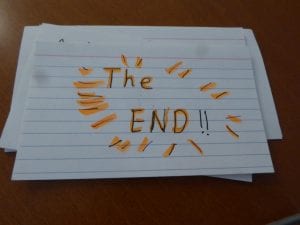 I hope you find it useful too!