Once upon a time, there were telephones that had letters of the alphabet by each number.
Letters of the alphabet have numerical values too.
I even read about a method in which one turns telephone numbers into letters as a method for committing them to memory.
However, when I searched online for a connection between activities using words and numbers (as opposed to words and pictures) and vocabulary retention, the only result I encountered had to do with Rebuses and rebus puzzles, which are good for activating both sides of the brain.  Good to know!  Rebuses are fun but hard to make…
Frankly, I was looking for justification for adapting my "Magic E Telephone" SPEAKING activity (which was based on Teresa Bestwick's "Minimal Pairs Telephone") to a LET'S ENGAGE WITH VOCABULARY ACTIVITY.  There are several profoundly Deaf students who rarely use voice or speak at all, and rely completely on sign language for communication, in my 10th-grade class. They would feel excluded in a group activity involving speaking.
I wanted to find out if the students would still pay attention to the "Magic E" and if the adapted activity along with additional activities would help them remember the vocabulary items.
Here's what I did:
I used the original 10 index cards and attached them to an existing activity board (little pockets for flashcards).
Above each word, there was a number, zero to nine.
I asked the students what the difference was between the words that look mostly similar (hat /hate). They all noticed the letter "e ".  I explained about the Magic E and its effect on pronunciation but emphasized the fact that the addition of the "E" changes the meaning of the word.
I then divided the students into groups of three. Each group had three tasks:
One student had to sign the word for each digit of his cell phone number. Student number two had to write down the numbers being signed so everyone could see if it matched. Student number three timed them and recorded the time. Then they switched roles.
You may be surprised, but it isn't so simple to think of a number and then say a word or sign it without pointing! I found myself wanting to point to each word! It all goes slower than rattling off numbers. Try it!
2. Student number one presented student number two with a series of index cards. On each card, there was a "math problem" written in words, such as: "hat + hate = ?"  "hate X cape = ?" on one side.  The numerical solution was written on the other side.
Student number two had to solve the math equation by answering with a number.
Student number three recorded the time.  Then they switched roles.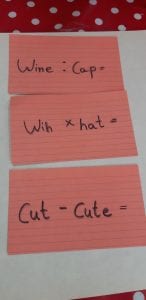 3. The same activity as before but the students answered with the word that the number denotes.
Initial Conclusions – Pros & Cons
We all had fun!
The students liked all the activities but they found the one with phone number more challenging and amusing and spent more time on that.
Students at different levels could play together.
One advanced student encountered the word "hope" in his text the next day. He asked if that was also a "magic E"!
BUT…
The cards were fixed in place – the location of the words served as a memory aid. Next time cards should be shuffled.
It seems a great deal of energy spent with very few vocabulary items learned, and not particularly important ones. It was more effective as a speaking exercise when the students repeatedly had to say the word.
At least everyone activated both sides of their brains and their bodies!