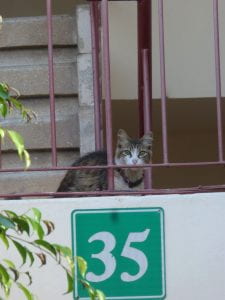 This book truly took me by surprise.
I was concerned that the book would be lurid and make me feel like I was reading the tabloids. The picture on the front cover of a woman with a knife in her hand and the quote on the back cover ("Dishes the dirt on what it's really like being one of many wives") did not seem encouraging.
In fact, the only reason I began the book was that it sort of fell into my lap.
I'm so glad I read it! The beginning part kept me a bit "wobbly" at first but that didn't last long and I happily read all 606 pages!
Ebershoff not only cleverly weaves two main storylines together, but he also moves the plot forward by presenting many points of view, expressed in a wide variety of formats – personal diaries, letters, newspaper articles, court documents, research materials and more. I felt I was getting a much richer picture of the unfolding events.
One narrative is from the present day, involving a secret polygamous Latter-Day Saints sect called "The Firsts", and a murder mystery. The other narrative follows the life of Ann Eliza Young, one of Brigham Young's multitude of wives who left the fold and waged a crusade against polygamy. Her life story is told along with the origin story of the Mormon religion.
This is a work of fiction though not quite a historical novel. It's important to read the end notes to understand more about which information is based on research and which parts are total fiction.  Ann Eliza was most certainly a real person!
Besides the issue of polygamy,  the depiction of a leader demanding blind commitment to every word, defining every doubt or disagreement as treason, of demanding one thing from his followers while setting himself above the rules is, unfortunately, an issue that is very much alive today. There is a powerful scene in the book in which Brigham Young uses his clever rhetorical skills to turn the tables on those who voice concerns over his unethical behavior, making them feel guilty for even having such impure thoughts. Such behavior did not die with Brigham Young…
As they say, don't judge a book by its cover (or it's back cover)!