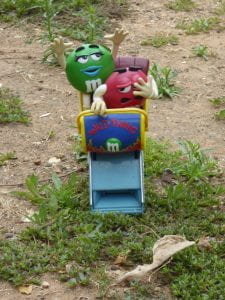 YAY!      Schools will resume teaching "normally" as of tomorrow at full capacity.
OMG!    Schools will resume teaching "normally" as of tomorrow at full capacity.
Note: Full capacity at the high-school where I teach is about 1800 students.
It's a ROLLER COASTER!     Last-minute decisions,  conflicting and incomplete information – teachers and school administrators can be ready for anything, adapt to whatever is needed at a moment's notice, right? Isn't that why educators are one of the most respected professions in the world? Right, huh?
I say "YAY" because I'm thrilled to teach the way I was meant to teach – being with the students in the same room! A lesson in which we can all focus on the task at hand,  with all our resources available,  leaving technology to be used when, where, and how we want to use it, only when it serves our purpose.
A FACE-to-FACE lesson where we can smile at the students as they enter class, compliment one, encourage another who seems to need it even though no word was spoken, or even just silently point to the whiteboard where the dates of the national exams are written when they ask for the umpteenth time.
Smile?
Did I say "smile"?
What about THE MASKS?!!
If it is safe now to have so many students in one place for an entire school day, in close proximity, why isn't it safe for them to ride on a school bus to school? The students won't come without transportation and the drivers won't bring them at half capacity.
Who is actually going to come tomorrow? And the day after? And what about those who don't? And those students and teachers who really can't return?
Have medical professionals, epidemiologists, been consulted during the "thoughtful process of planning" the reopening of the school system? The fact that I'm looking for a "rhyme and a reason" may be highly Quixotic of me but knowing that doesn't help me sleep any better.
Is wearing a mask for a full school day at all feasible?
Thanks to an administrator at school I got a mask with a clear plastic window so my Deaf and hard of hearing students can see my lips. Can I spend a whole day with a piece of plastic over my mouth?
I guess I'm going to find out.
The principal sent a recommendation to spend breaks outdoors as much as possible, so as to avoid crowding in the teacher's room.  Students should go out as well.
Unfortunately, the first serious heatwave of the year has just begun. It's a scorcher worse than our usual seasonal ones. The weather forecast for the area of our school tomorrow will be a whopping 40 degrees celsius! 
For once I can foresee the future – the schoolyard will be empty!