A teacher gets "new eyes" with camera in hand!
Unusual amounts of rain came down this week.  Driving to school Wednesday morning was quite difficult, even though I don't live very far from the school.
This was the view from my classroom window yesterday. The students came in during the breaks to admire the "lake":
On the way back to the car it stopped raining long enough for me to find this gem in front of my parking spot:
The first indication that today would be brighter came not from the sky but from the hallways! Haven't discovered who was celebrating yet…
And then the sun came out! Color and life in the front school yard!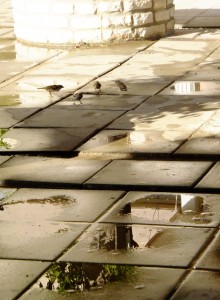 Note: This is an educator's blog, so only school related pictured are posted here. To see what this teacher comes up with when pounding the pavement of her hometown, see here: