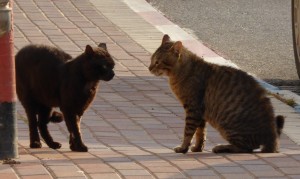 Yes, yes, I know that the very idea of sending a message to my younger teacher self doesn't exactly make sense. Besides the necessity of time travel, how could a younger version of myself understand my perspective today? Also, what could I say?
That was my first reaction to the "shower" of  blog posts triggered by  Joanna Malefaki's  lovely post and her blog challenge on the topic (see the bottom of Joanna's post for links).
But then…
* I remembered Bruce Willis meeting his younger self  in the movie "Kid".
* I discovered delightful, creative gems in other teachers' posts – it seems there is a lot to be said after all! And in so many ways!
* I learned that Sophia Khan (whose post made me chuckle!) had solved the problem of time travel: "I wish I could tell you more but it might destroy the very fabric of the universe so better not".
* I remembered that last year we had a lot of fun at the ETAI conference with seven-word-autobiographies. Crowdsourcing teachers' input makes for creative, informative and downright funny reading!
And last, but not least…
* I considered the fact that examining different perspectives is a skill we teach in class. Crowdsourcing advice to a younger self from teachers whose ages are different, who teach in different settings and different countries – now that might even include the skill of "comparing and contrasting"!
So, please fill in your short message to your younger teacher self using this form.  The messages must be short! I'm not sure whether I will collate them for the upcoming summer conference in slide show format (as I did last year) or think of something else, but brevity is a necessity! 
I can't wait to see what the teachers will come up with!
Meanwhile, I won't tell you what my message will be, but until the replies start coming in I will share another kind of message. Enjoy and don't forget to fill in the form!