In case you haven't noticed, I'm a big fan of puffins.
Puffins,  as in the birds, though I certainly like a great many Puffin Books as well! Puffins are beautiful, cute, and versatile – they can fly AND swim!
I understand these birds are incredibly popular in Britain and in many other countries, but they aren't that well-known in my part of the world. My students are not the only ones who comment in puzzlement about the "strange duck" I use as a profile picture!
While the puffin may seem like an unfamiliar creature to my students, I have recently learned that our shared life in the classroom has more in common with puffins (and pufflings!) than I ever imagined.
How did this newfound knowledge come my way?
"Planet Puffin" is a wonderful podcast composed of short episodes of varying length (ranging from 5 to 15 minutes) and varied modes of presentation: "A regular podcast from PM on Radio 4 on all things puffin. Both the silly and the serious; the scientific and the cultural".  Many thanks to Elizabeth Evans Cicconi for telling me about it!
The only thing they don't discuss in the podcast are the similarities between "Planet Puffin" and "Planet Classroom", so I take it upon myself to highlight the forgotten issue.
Puffins look very different in the winter.  They lose the colorful beaks and the black mascara-like markings around the eyes. They lose their wing feathers and become flightless too.
Students and their teachers also exhibit marked changes in their looks between winter and summer, though the changes often progress in opposite directions.
In winter students often seem unable to fly – they simply don't shine.  Their teachers despair over their inability to grasp the material, to behave themselves and wonder if the students will ever be able to fly independently. Yet by the time the summer finals arrive, the students flex their wings and fly, in glorious colors!
The teachers, on the other hand, retain their bright, energetic colors well into winter, perhaps all through winter. However,  by the time the summer finals come round, teachers' feathers have faded and become dun-colored, their beaks sag and their movements seem sluggish.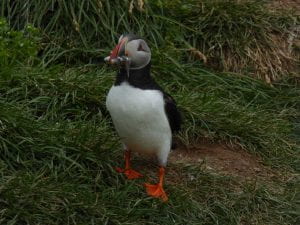 2. So very needy
Pufflings are always hungry. They stay in their burrows while the parents fly off, again and again, day after day, to find fish for them. "Puffin parents can supply their young with fish more than 100 times a day".
If we ignore the fact that students (particularly adolescents) seem always ready to actually eat, students are just as needy as the pufflings. In order to "feed" them properly, teachers find themselves spending far more time on their students' nourishment than the allotted 4-5 teaching hours (per class) a week.  Breaks between lessons dissolve into "meet the student" time, or yard duty,  "free periods" are devoted to grading, preparing material, running after the computer technician, searching for printer paper, attending staff meetings and answering students questions on WhatsApp while attending in-service training courses.
The ratio is different, of course – pufflings are "only children" – one puffling a season…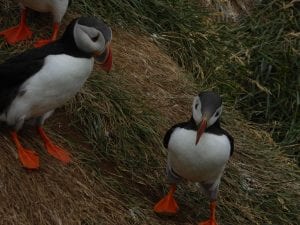 3.  Sometimes pufflings need to be rescued
When pufflings are ready, they must leave their burrows for the first time. Having never seen the sea or been in the fresh air, they must now find the edge of the cliff by moonlight and the sound of the sea and fly away.
Most pufflings do all of this as planned.
Some don't.
Some pufflings are led astray by human temptations, such as the sound of a generator or artificial lights. They need to be rescued from boiler rooms and kitchen cabinets and brought back to the clifftop.
Others set off in the right direction but get tangled in the nettles, their little feet becoming paralyzed. They are completely unable to move forward on their own.
Just like some of our students who lose their way. They need extra help, special attention or intervention, and second chances (or more!).  They have the ability to "make it", but they can't fly off without extra help.
4. A strong sense of place
Puffins return to the same place, year after year, after spending the winter out at sea.
Many teachers, myself included, return to the same school, the same classroom, year after year (after year…) ready to get new pufflings set on their path to the open sea.
No, it's not boring and it's never exactly the same.
Pufflings all look adorable to us humans but in the classroom, we sometimes have to remind ourselves to see the students as pufflings and find that "lovableness" in them that simply hasn't yet manifested clearly…
There are more comparisons to be made but I'll let you listen to the podcast yourselves.
Three cheers for puffins and teachers!!!!